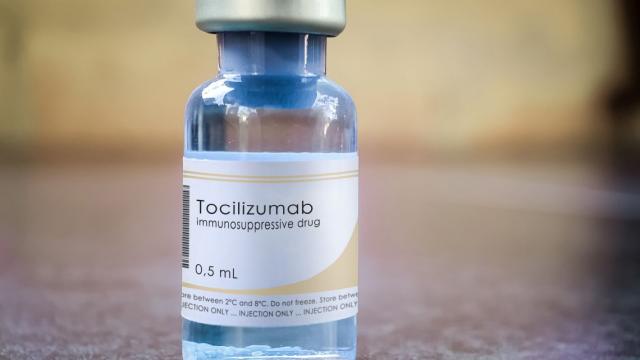 Welsh researchers contribute to study that finds arthritis drug could help save 1 in 25 severely ill COVID-19 patients
12 February
The Randomised Evaluation of COVID-19 Therapy (RECOVERY) trial, which is running in seven health boards across Wales, has found that a drug used to treat arthritis could save 1 in 25 severely ill patients.
The study also showed that the anti-inflammatory treatment, tocilizumab, shortens the time until patients are successfully discharged from hospital and reduces the need for a mechanical ventilator.
The RECOVERY trial, which includes research teams at the health boards in Wales, has been testing a range of potential treatments for COVID-19 since March 2020. Tocilizumab, an intravenous drug used to treat rheumatoid arthritis, was added to the trial in April 2020 for patients with COVID-19 who required oxygen and had evidence of inflammation.
Dr Angharad Davies, Health and Care Research Wales Specialty Lead for Infection, who also represents Wales on the UK Urgent Public Health group, which reviews clinical trial research protocols for prioritisation, said:
"This is another significant step forward in finding effective treatments for the fight against COVID-19. It is very good news, because it means we now have another treatment that we know increases survival of patients in hospital with severe COVID-19, and which also helps patients get home from hospital sooner. It is very important that we continue to find ways of improving the treatment of this disease for patients who fall ill, as well as vaccines.
"Research teams and staff at health boards right across Wales have been working hard to help make this happen, as part of a huge research effort which is still ongoing. We are very grateful to them and to all the patients here who have taken part in the studies. Without their participation it would not be possible to find answers about what treatments are effective."
Brendan Healy, Principal Investigator for the RECOVERY trial in Swansea Bay University Health Board, said:
"The more evidence we have about potential treatments, the more we can help all patients with COVID-19.
"We now know tocilizumab can benefit patients with low oxygen levels and significant inflammation. Thanks to this research, this drug can now become a standard treatment option alongside the steroid dexamethasone, which the RECOVERY trial has already shown to save lives."
Recruitment to the tocilizumab arm stopped on 24 January 2021 since, in the view of the trial Steering Committee, sufficient patients had been enrolled to establish whether or not the drug had a meaningful benefit.
A total of 2,022 patients were randomly allocated to receive tocilizumab by intravenous infusion and were compared with 2,094 patients randomly allocated to usual care alone. 82% of patients were taking a systemic steroid such as dexamethasone.
In June 2020, the RECOVERY trial found that the inexpensive and widely available steroid dexamethasone reduces death for patients with severe COVID-19. This rapidly became part of standard-of-care given to all such patients. The benefits of tocilizumab were clearly seen to be in addition to those of steroids.